Description
WIRELESS VOLLEYBALL BUZZER FOR THE WORLD'S GREATEST GAMES!!!
Designed by volleyball referees according to official volleyball rules FIVB.
 Function
To signal time-out or substitution of players by coaches or scorer.
Goal
To ensure a smooth course of the game by a clear communication between coaches and referees, to make the scenery of sport show more attractive.
Availabe sets:
3-element Olympic set

– consists of 2 standing buzzers (1 for each team) and 1 table buzzer (for the scorer).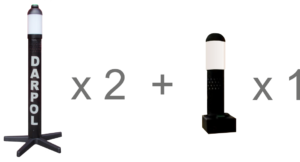 3-element standard set

– consists of 3 standing buzzers (2 for the teams, 1 for the scorer).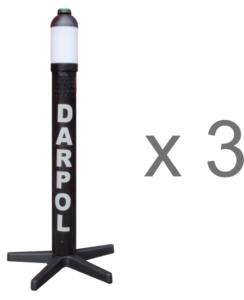 Major benefits:
WIRELESS = SAFETY – wireless system eliminates necessity of using electrical cables, which can be dangerous during a game. Before a match You just charge the buzzers like Your cell phone and that's it! Of course if You forget to charge them You can also use them with a cable.
VOLUME – DARPOL's buzzers are very loud. Thanks to it they can be easily heard by all game participants, also those in the tribunes.
EXTREME SITUATION SOLUTION – volleyball is still more and more popular game. In Poland it is our second national sport. That's why a lot of games take place in the enormous sports halls with grate and loud audience. This extremely big noise made a communication with II referee difficult, because sometimes he couldn't hear the signal coming from the team's buzzer. 4th element is the best solution for these hard conditions especially that it is fastened to a net post in front of the II referee. So there is no chance that he won't know that somebody asks for time-our or player's substitution. When the button of any standing buzzer is pressed, the light turns on and starts pulsing in the on-post element too.
ATTRACTIVE DESIGN– attractive design and unique structure of DARPOL'S buzzers have a very positive influence to the scenery of volleyball spectacle watched alive or by TV broadcast.
CONVENIENCE OF USE – if the batteries are loaded, the buzzers are ready for action! You just press a big colour button and You hear a sound and see a light signal at once. Each coach and a scorer has his own buzzer, so at once referees know who calls time-out or substitution. It makes them react quickly, so the game goes faster and constantly. Comfort of use is possible also thanks to buzzers height adaptation. They are adjusted to the conditions of games and their users. The height was designed, so that it is comfortable for the coach to turn on the buzzer no matter if he sits or stands, which is very often during the match. Standing buzzer is a universal solution for both – coaches and scorer. To make scorer's work with buzzers even more comfortable in the Olympic version scorer's standing buzzer is replaced by a table buzzer to be put on his desk.
SIMPLICITY – buzzer is a electronic device. However, its technical solution was designed thinking about simplicity which influences low braking rate, ease of use and service. Morover, in case of any damage of any buzzer during a game (for example as a result of a strong ball strike to a buzzer), each of them can be easily exchanged with the reserve buzzer, which will also work in a system.
ENERGY SAVING – energy saving LED diodes and efficient batteries help to save the environment.
QUALITY – DARPOL is ISO 9001:2008 certified company, and the production is made maintaining high quality standards.
PRESTIGE – DARPOL's buzzers have been used during the most prestigious world's volleyball events: World Championship, Olympic and Paralympic Games  in Rio and London,World League, World Grand Prix, European Championship, European Champions League, European Cup, World Olympic Qualification, Pan Am & Parapan Am Games (Toronto, Lima) and various national leagues.
STAFF – design of DARPOL's buzzers was made by volleyball referees. Who knows the needs and conditions of such equipment better if not them? DARPOL is a manufacturer of varied mechanic, electric and electronic subassemblies, so it's staff is well-trained and capable to adapt to our client's needs.
Technical data:
POWER – 230V/50Hz

CHARGING – 6W
SOUND SIGNAL LEVEL – 120 dB
SOUND SIGNAL TIME – ˜ 4 sec.

OPTICAL SIGNAL TIME – ˜ 8 sec.
HEIGHT (standing buzzer) – ˜ 120 cm

INTERNAL CHARGING – VRLA battery 12V/1200mA

LIGHT SOURCE – LED diode

Available spare parts:
power cable

green button
lampshade
battery
Watch video with our buzzers:
Darpol's buzzers in Rio 2016 – click to watch
Poland calls time-out – London 2012 – click to watch
Paralympic Games – UKR-USA – click to watch