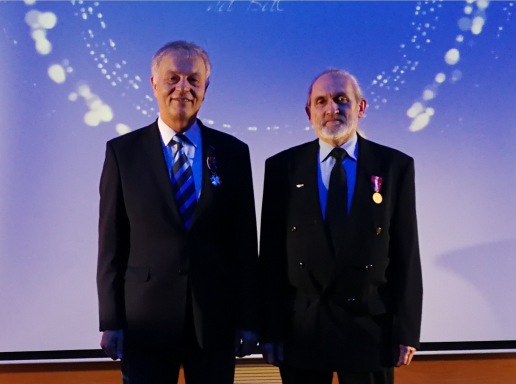 Cross of Merit for D. Jasinski and Medal for Long Service for  M. Nejman.
On February 25, 2020 an extraordinary event took place. Our President Mr. Dariusz Jasiński was honored by the outstanding civil decoration – the Silver Cross of Merit awarded by the President of the Republic of Poland.
The "Cross of Merit" is a reward for people who have made merits to the State or its citizens by performing acts exceed their normal duties, and which bring significant benefits to Poland and the citizens. His long-standing business activity and outstanding sport and social activities were appreciated this way.
After that another people were awarded with other civilian state decorations. We are happy to announce that our longtime employee Mr. Marek Nejman received gold Medal for Long Service. This Medal is issued by the President of the Republic of Poland as an award for exemplary, extremely conscientious performance of duties arising from professional work in the service of the State.
The orders were handled to our representatives to the sounds of national anthem, in front of 300-people audience.
It is a great joy and surprise for them as well as a pride for our entire company! At the same time, it is also a great motivation to do as much as possible while doing anything.
For those interested, you can read about the decorations here: